Kim Wilson - Take Me Back The Bigtone Sessions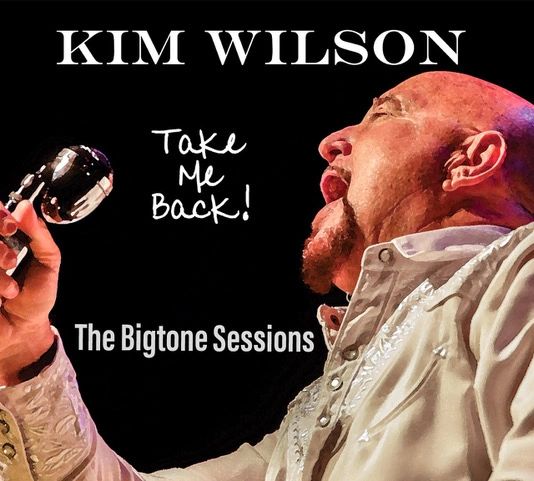 Kim Wilson - Take Me Back The Bigtone Sessions
Free shipping in the U.S.
A limited number of autographed CDs are back in stock!!!
You can order the vinyl here
If you would prefer to order digitally, click here.
After 17 years, Kim Wilson has rejoined M.C. Records for his  7th solo release, Take Me Back (MC-0087).The recording is Kim's first solo release in three years. The album was released on Friday, October 9th. In 2001 and 2003, M.C. Records released Smokin' Joint & Lookin' For Trouble, both were nominated for Grammy Awards in the category of Traditional Blues. 

Blues Music  Magazine:  A recording Like this is essential to keep the straightforward blues alive!


Midwest Record: Sizzling, smoking and sure to be award winning, this is as hot, bad and authentic as it can ever be.  Killer stuff.
Take Me Back is deep, authentic, and filled with the gut-wrenching blues sounds Kim has made famous for over 40 years. Recorded live in the studio and in mono, Kim delivers the blues as his heroes did in the golden age of the genre in the 1950s. Kim and his all-star band muscle through 16 tracks with some new Wilson songs and a mix of some great blues and R&B nuggets by the likes of Jimmy Rogers, Jimmy Nolan, Larry Williams, and more.
Take Me Back was recorded at Big Jon Atkinson's ultra-authentic Big Tone Studios. Kim Wilson invited some first-class blues musicians for the album including Billy Flynn, Barrelhouse Chuck, Big Jon Atkinson, Rusty Zinn, and Kid Andersen.
To say that these recording sessions were enjoyable experiences would be a vast understatement! Not only are these fellas' great musicians but they are also dear friends of mine and I want to thank them for the incredible performances that they gave. – Kim Wilson

Reviews